Theyyam connections
Dec 25, 2022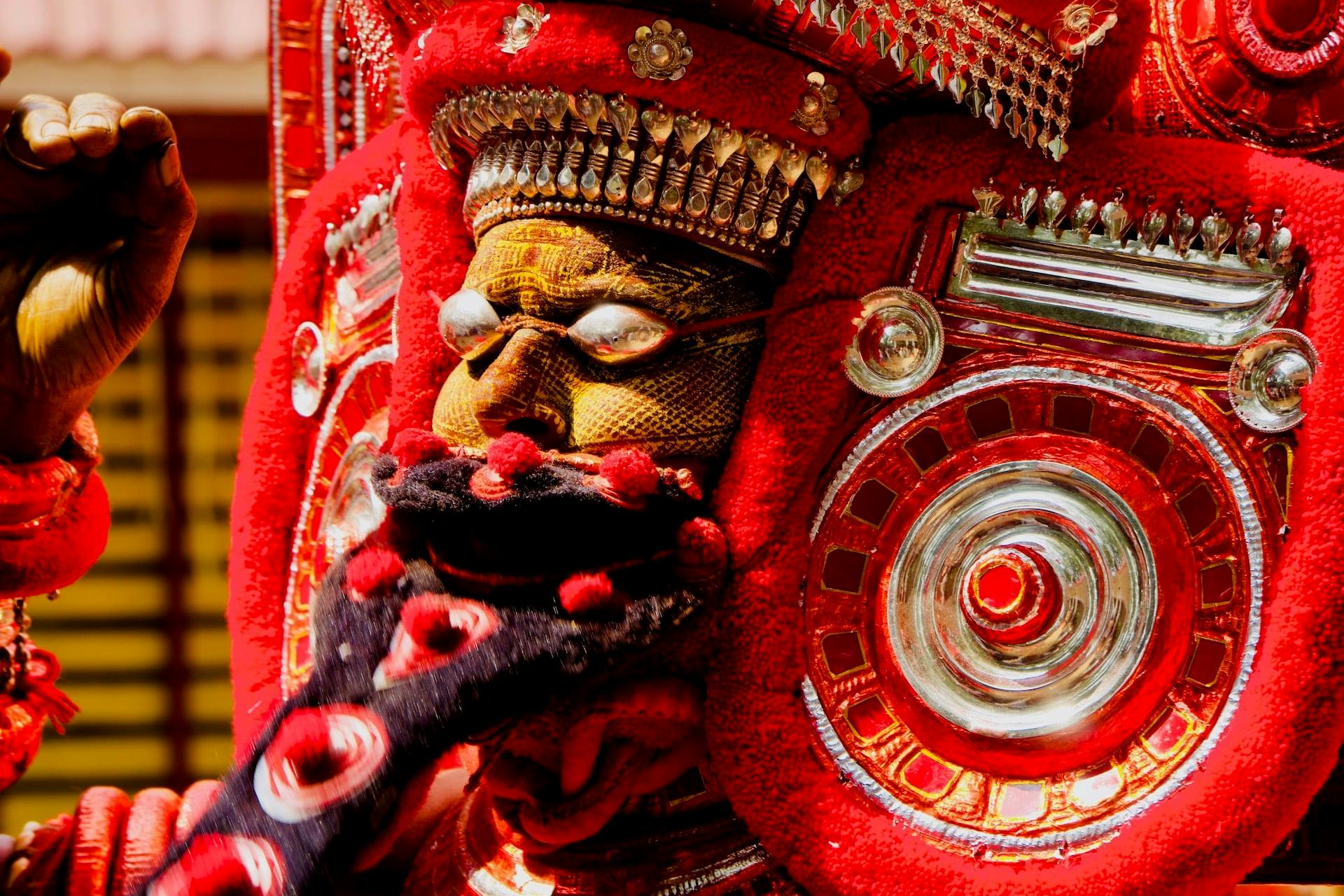 I grew up watching Theyyam every year. They were scary at one point and the more stories I heard of them, the more connection I had with the beautiful red demi-gods from the Malabar folklore
The sound of Chenda and the beautifully decorated theyyams are a vivid visual stuck in the back of my mind. An art form that is centuries old - up to 1500 years old according to articles, Theyyam is an art of the rebels.
Theyyam reminds me of the sticker I once made that said "the rebel in me will never die". Enslaved laborers who weren't allowed inside temples found their own forms of worship. While the gods of the higher classes had access to exotic materials and craftsmen to decorate their elaborate gods and goddesses, the lower caste rebel craftsmen found their way through contrasting colors easily available around them. Red and yellow were easy to access, so they used those colors to a large extent.
Theyyams happen from September to April every year around here. Every small temple(called kavu) owned by families of that place conduct their thira on a fixed date given to them. A two-day affair, sometimes extending to three - theyyams start decorating themselves on the first day and eventually progress on to their intensive dances on the next. In the last few years they've gained so much popularity that nowadays the temples are cramped on festive days.
I remember going to watch Theyyam's dance late in the night with my dad waiting for exclusive performances like that of Khandakarnan and Gulikan.
Demigods are believed to be protectors and facilitators of the land. Most of them have a story behind them - they all have a history of rebellion - overthrowing power to protect and empower themselves. Red eventually became the accent color of my land - the land I hail from - Kannur, Kerala.
Some links on Theyyam and its history
Theyyam in Kerala, India - https://www.lostwithpurpose.com/theyyam-in-kerala-india/
Theyyam - http://www.keralaculture.org/theyyam/74
Theyyam in Kerala -A Unique Dance of Gods - https://irisholidays.com/keralatourism/theyyam-in-kerala/
In Pictures: Kerala's 8 Centuries Old Theyyam Festival - https://www.outlookindia.com/outlooktraveller/see/story/69200/in-pictures-keralas-8-centuries-old-theyyam-festival